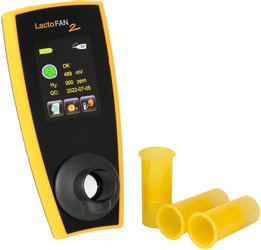 The LactoFAN2 is a powerful diagnostic tool for measuring exhaled Hydrogen concentrations in ppm, for example the Lactose intolerance test.
From a single breath maneuver, H2 measurements are instantly displayed on the easy to read touch screen display.


Lactose intolerance and malabsorption
Carbohydrate malabsorption and breakdown deficiencies
Sucrose and Fructose malabsorption
Investigation of SIBO (small intestine bacterial overgrowth)
Determination of ITT (intestinal transit time)
easy operation by the glove-capable touchscreen
graphical user guidance and patient animation
result tables for several patients
continuously updated result history
no warm-up time
automatic reset, sensor drift detection
semi-automatic calibration method
operation from 4 standard AA-size batteries
simple data export Windows® software
supplied with USB cable and starter kit in a sturdy carry case
Using the FANh2 Windows® software via the supplied interface cable you can transfer measurement data from the H2 monitor into test reports.
You can select a commonly used H2 breath test protocol like Lactose intolerance, Intestinal transit time or Bacterial overgrowth from the database and enter the patient's details along with their symptoms.
The software can manage multi-patient H2 sessions stored in the LactoFAN2 and proposes diagnoses.
The test process is completed by generating a professional report.
Via standard data interfaces like GDT, HL7 or ASTM the software can be connected to local EDP–systems easily.
---